1. WHAT ARE THE CAUSES AND THE INDICATIONS?
Excessive and repeated tweezing is often responsible for the eventual disappearance of eyebrow hair.
Hiding a scar is a good indication. An eyebrow transplant is also an interesting alternative to permanent tattoos, as it looks natural and it is hard to detect the fact that it is a transplant.
2. WHICH TECHNIQUE IS USED?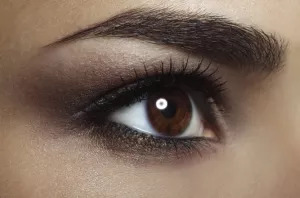 Generally, hair is used, but if possible we can also use armpit or chest hair extracted with the FUE (follicular extraction ) method, or we can remove a strip from the armpit. The use of grafts with one single hair is essential. Given that the genetic properties of the hair are not modified by the transplant, the hair that grows will have to be cut. The result is that the implanted hair has a bigger diameter than the original eyebrow hair. In practice this is not an issue, on condition that the implanted hair is sufficiently thin.
Only one hair or body hair can be implanted at a time and the orientation of the incision must be perfect and extremely tangential. Moreover, to obtain a natural result, the curve of the transplanted hair must be oriented towards the skin. Finally, the hair has to be oriented differently depending on the eyebrow zone.
Eyebrow transplants are a variant of hair transplants. The grafts need to be meticulously cut and replaced. Any errors at this level are particularly difficult to correct. That is why we recommend that you consult with a specialized physician, who has already performed this type of surgery. The price varies, depending on the technique and the degree of difficulty, between 2500 and 3000 euro excluding VAT.

3. WHAT IS IMPORTANT TO KNOW ABOUT THE EYEBROW TRANSPLANT?
First of all, it is very important to make a good analysis of the situation. What was the original shape of the eyebrow? How is the hair spread? How is its orientation? What are the patient's wishes? Soon, we will provide you a complete website about the eyebrow transplant and their importance into the history of the beauty, about how to take care of them, but also with a complete analysis of the different eyebrow shapes.