Dr. Barbara Montesanti
Vascular surgeon - Phlebologist
Hair transplant
Aesthetic medicine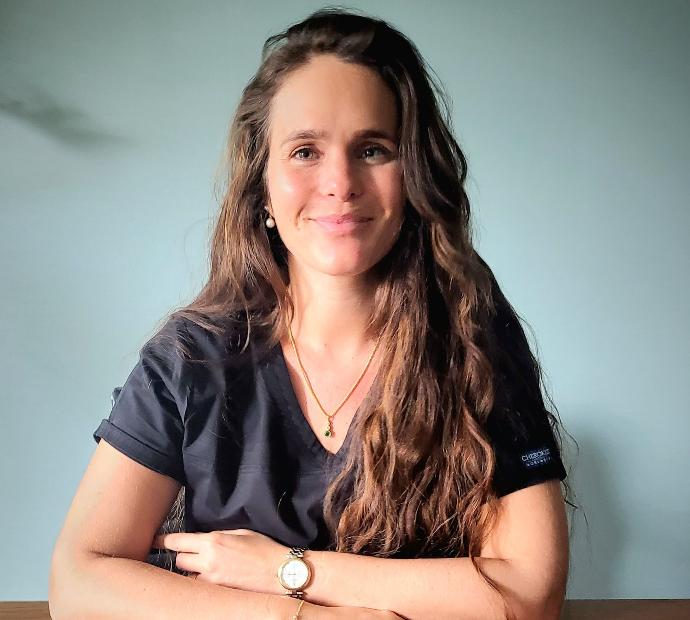 With a doctorate in medicine and a complementary Master's degree in general and vascular surgery from ULB Erasme Brussels, Dr. Montesanti wanted to specialize more particularly in phlebology, the sciences that study venous disease. In addition, she became very interested in aesthetic medicine and began offering consultations in 2019. She is currently a member of the FILLMED group of medical experts, whose aim is to achieve the optimum level of knowledge in this field, so as to offer you the most suitable treatments for each individual.
​She trained in hair transplant surgery with Dr. Jean Devroye and has been working at the clinic since 2022.

Dr. Montesanti provides hair transplant consultations and surgical management.
She also provides aesthetic medicine consultations and treatment for hyperhidrosis and venous pathology.
For more information about aesthetic medicine, please click here.
TRANSPLANTS
- Hair: FUE / FUT technique
- Beards and repair/correction of previous grafts
- Eyebrows
- Pubis
PERMANENT HAIR REMOVAL
MANAGEMENT OF AXILLARY HYPERHIDROSIS (excessive sweating)
AESTHETIC MEDICAL CARE
- Botox injections
- Hyaluronic acid injections
- Tensor thread insertion
- Gentle face peels
- Mesotherapy
For more information on aesthetic medicine, please click here.
VARICOSE VEIN SCLEROSIS
Sclerotherapy involves injecting a sclerosing agent into a varicose vein to destroy it. Sclerotherapy transforms the varicose vein into a fibrous cord, which gradually resorbs and disappears. The longer varicose veins disappear after sclerotherapy, the more numerous, extensive and very large they are.
Sclerosing agents act on the inner wall of the varicose vein immediately after injection. They are inactivated within seconds of injection by blood proteins. This means that they do not spread throughout the body, but are localised to a few centimetres around the injection point. On the day of treatment, you may feel a tugging sensation in your legs or a burning sensation that may last up to 3 or 4 weeks. Small bruises, redness and pigmentation may appear on the skin, which will disappear as the varicose veins are completely reabsorbed.
Walking helps reduce side effects. After the session, you'll keep small compression bandages on for 24 hours, as well as your compression stockings for 2 weeks during the day. If you experience pain, you may take an anti-inflammatory medication.
MINOR DERMATOLOGICAL SURGERY
Dr. Montesanti can also perform minor outpatient surgeries under local anesthesia, such as:
- Naevus excision
- Removal of sebaceous cysts

2022
Trained in hair transplant surgery by Dr. Jean Devroye

2022
Master's degree in general and vascular surgery from ULB Erasme Brussels

Aesthetic medicine trainer since 2022 (FILLMED Expert)

2020
University diploma in phlebology

2019
University Diploma in Microsurgery

Trained in aesthetic medicine since 2019